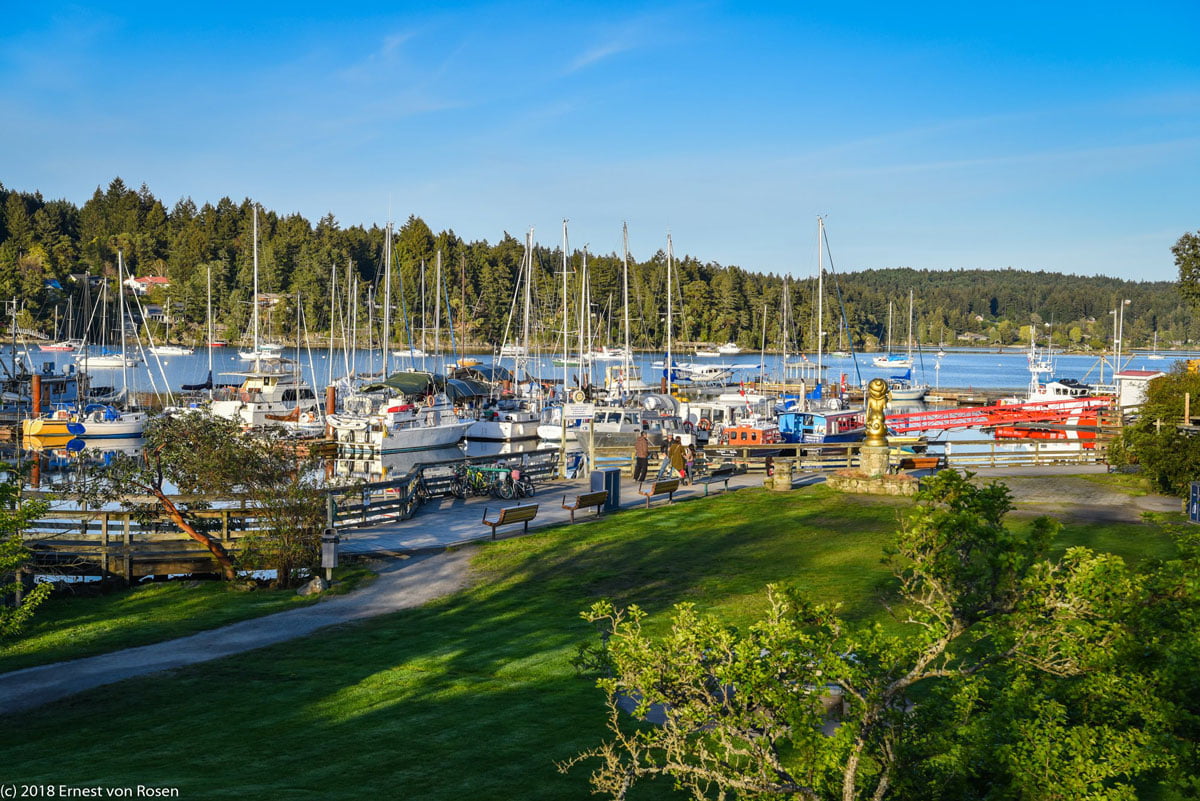 72 Hours on Salt Spring Island: The Perfect Weekend Itinerary
Start planning your visit to make the most of your relaxing island getaway. 
The ideal place to spend a quiet, rejuvenating long weekend, Salt Spring Island has so much to offer that it can be hard to fit it all in – especially when the goal is to relax and escape it all. Of course, you'll want time away from crowds, opportunities to be close to nature, and the ability to appreciate the simpler things that make island life so unique. While the scent of the towering pines and the fresh sea air will have you breathing deeply all weekend, where else should you plan to visit to make the most of this magical destination? Use our 72-hour itinerary to plan ahead and make the most of your getaway.
Thursday: Arrive & Relax
4:00 pm – Check in with us at Hastings House Country House Hotel. Our friendly and accommodating Reception and Bell team make getting settled into your room a simple and stress-free experience. Let us give you a brief tour of the property and share some of its history while we deliver your bags to your room.
4:30 pm – Once you're settled in, enjoy cocktails and appetizers on our stunning Terrace overlooking the beautiful Salish Sea at our Seaside Social. Be sure to ask about our new local cocktails with hand-crafted herbal infusions.
6:00 pm – Transition to the light-filled Verandah in our Manor House to enjoy a selection of tasteful dishes influenced by the freshest local ingredients.
Friday: Explore the Island
7:30 am – We'll quietly deliver freshly baked muffins to your room. Look for a basket hanging outside your door, the sooner you find them, the warmer they'll be.
9:00 am – At your leisure, feel free to stroll down to the dining rooms to indulge in a fresh, made-to-order hot breakfast. Included with your room, our skilled Chefs offer new items every day.
10:30 am – Get out into some of the island's best scenery with a hike at Ruckle Provincial Park. With relatively flat trails of various lengths, there's something for every skill level. Watch for dolphins and seals which can often be spotted here. If you're looking for something more advanced, read our trail recommendations or feel free to ask our knowledgeable staff.
12:00 pm – For lunch, enjoy a Hastings House Gourmet Picnic – packed and prepared for you to enjoy anywhere you please. Just make sure to place your order a day in advance.
1:30 pm – Stop by Salt Spring Island Cheese to sample handmade goat cheeses with 100% pure goat milk. Need we say more?
2:30 pm – Heading back from the south end of the island, be sure to stop at Beddis Beach, the island's prettiest beach, for quiet, white sand and beautiful sea views. Take a swim if you're brave, the shallow waters here make swimming easily accessible and (maybe!) warmer.
3:30 pm – Indulge in some local libations for the remainder of the afternoon. We recommend Salt Spring Wild Cider for hard apple ciders, Salt Spring Island Ales for creative beers, or Garry Oaks Winery or Kutatas for wine. All boast beautiful outdoor seating and lively atmospheres.
6:00 pm – Let us make a dining recommendation based on your preferences!
Saturday: Get to Know Ganges
7:30 am – Enjoy your morning muffins and breakfast early today so you can avoid the crowds in town.
9:00 am – Peruse the famous Salt Spring Saturday Market in Centennial Park as soon as it opens for the best look at all the incredible island-made products, including organic produce, pottery, art, jewelry, and food carts. Everything here is "make it, bake it, or grow it" yourself so you can be sure you're getting a true island experience.
12:00 pm – Stop for Lunch at the unique Tree House Cafe. With a century-old plum tree growing in the centre and lush foliage all around, this quaint restaurant is an icon that's been a part of the island since the 1920s.
2:00 pm – After that, explore the rest of Ganges! There are a number of adorable shops and galleries that are worth popping into. Take a look at a few of our favourites.
4:00 pm – After a busy day on your feet, treat yourself to a massage at the Wellspring Spa. Our skilled therapists provide a variety of treatments that will guarantee you wind down for a relaxing evening.
6:00 pm – Can we recommend dinner at Manor Dining again? We have a Curry special on Saturday evenings complete with lime and mango pickles and papadams. If there are vegetarians in your party, we offer vegetarian curry every night of the week!.
Sunday: Until next time…
9:30 am – Take it slow this morning and savour every last bite of your morning muffins and breakfast, we know you won't want to leave.
11:00 am – Check out at Reception and let us either hold your bags until you're ready to catch the ferry, or arrange a shuttle to your point of departure.
11:30 am – If you have time, grab an early lunch at Francis Bread, the island's beloved bakery. While their pastries and sandwiches are delicious, we would be remiss if we didn't recommend taking one of their wood-fired sourdough loves home with you. You'll be glad you did.
1:00 pm – Start planning your trip back! There's so much more to see.