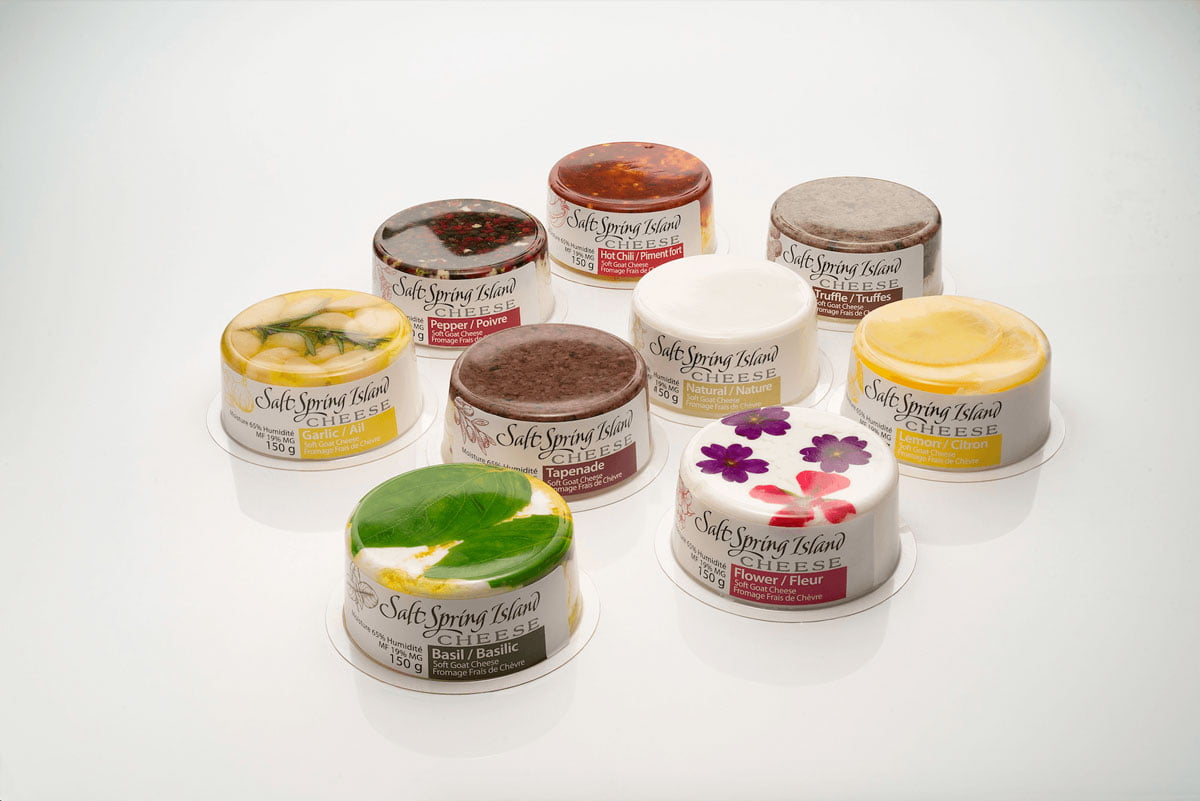 Island Life: Salt Spring Island Cheese
Making traditional, handmade goat cheeses with 100% pure goat milk, Salt Spring Island Cheese is a staple for locals and visitors alike. The key to their incredible taste is simple – they use only a handful of high quality ingredients in their products. Here on Salt Spring Island, where they have been making cheese since the early 90s, we're lucky to be able to serve these delicious cheeses every day. 
Family owned and operated, Salt Spring Island Cheese sold its first product in 1996 after six years of trial and error on the farm and in the kitchen by founder, David Wood. Wood, who was born in Scotland and grew up there and in England, made the move to Canada in 1973 to work in the environmental field. Eventually though, he pursued his lifelong passion for food when he opened the David Wood Food Shop in Toronto, Ontario in 1984. One shop grew into three and a catering business, and Wood operated them all until his family's move to Salt Spring Island in 1990 in search of a friendly, slower pace. 
Handmade and hand packaged, using traditional methods and only natural ingredients, the cheeses have been popular ever since. Though the company has grown, they continue to make all their cheese here on Salt Spring, as well as staying an entirely family-run business. With a goal "to make simply the best tasting and looking cheese you will find, from one of the most beautiful islands in the world" they live up to their promise, and beyond. In fact, their most recent cheese was inspired by the natural beauty of the island, itself. Ruckles, named after the nearby Ruckle Provincial Park, are tiny fingers of fresh goat cheese, marinated in grape seed oil and flavoured with garlic, rosemary, chives, and thyme.
Open year round, the Farm Shop offers samples of all their cheeses, and sells a range of artisan foods and beverages. You can expect to find local favourites like chutneys, jams, crackers, vinegars, honeys, smoked salmon, and more, along with incredible olives and olive oils, teas, and cordial. In the summer months, the Cafe serves simple and delicious foods, including baked sandwiches, pizzas, salads, house made soups, and of course, a goat cheese cake and goat milk gelato. It's a wonderful option for a casual lunch. While you're there, you can see the animals, wander the farm and enjoy the scenery, and watch the cheese being made in their production facility through the viewing windows. No matter what you choose, a trip to Salt Spring Island Cheese is an afternoon well spent. 
Photo credit: Salt Spring Island Cheese