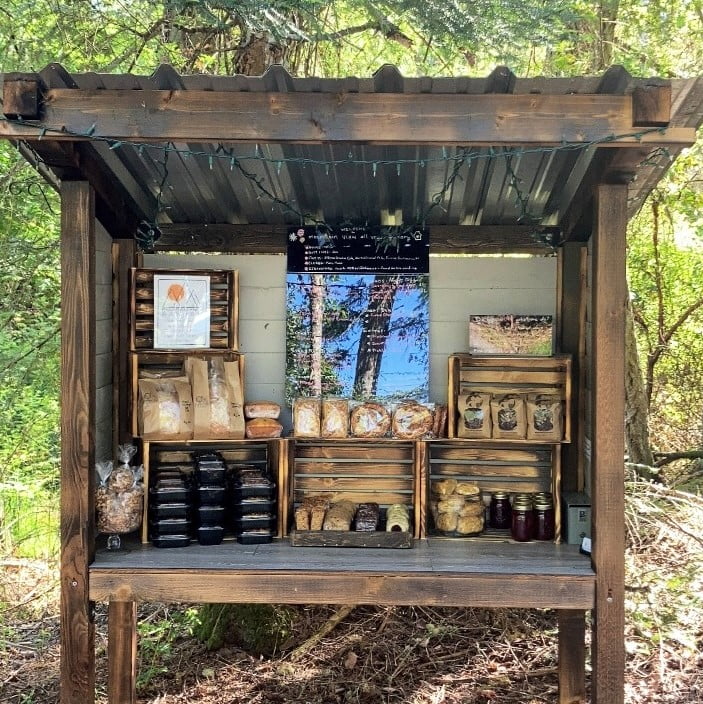 Favourite Farm Stands on Salt Spring
One of the unique and charming aspects of a drive around Salt Spring is the many farm stands. Visible at the end of driveways both on main roads as well as smaller lanes, many farm stands offer an abundance of fresh produce, like eggs, vegetables, and farmed organic flowers. Other stands specialize in delicacies such as bread, baked goods, jams, and other artisanal gift items. Here are some of our favourite spots in the vicinity of Hastings House for tasty treats and souvenirs of your time on the island!
Northend Farm
Northend Farm has an abundant farm stand just off the pastoral Northend Road at number 2521, near the junction with Sunset Drive. This farm stand offers berries, vegetables, jam, chutney, bread, and baked goods, such as pies and cinnamon buns. Open daily 10:00am – 5:30pm, Northend Farm is a great place to stop if you are hiking the Channel Ridge Trails or headed to one of the beaches at the north end of Sunset Drive, like Zach Beach or Jack Foster Beach West.
Sunset on Salt Spring
Nearby at 310 Sunset Drive, Sunset on Salt Spring crafts delicious jams and jellies from locally sourced fruit in its licensed kitchen. Driving at a leisurely pace, you'll easily spot this farm stand; pull over and park at the side of the road to purchase a little bit of island flavour to take back home with you!
Stand on Tern
The most colourful stand on the island, Stand on Tern is full of bright fabrics and knit ware featuring totes, laptop bags, aprons, place mats, and stuffed animals. A feast for the eyes, you will enjoy browsing this stand open weekends in the summer season. Tern Road is just off Broadwell, and it is a convenient stop if you are planning to stroll in Duck Creek or hike the Channel Ridge Trails.
Dave's Artisan Granola
Are you a granola lover? Dave's Artisan Granola specializes uniquely in granola and muesli. There is original, maple pecan and chocolate orange! This is a very convenient stop if you are leaving the island via the Vesuvius ferry to Crofton. From Vesuvius Bay Road, turn left on Chu-An and then left on Elizabeth Road. You may see the large wood sandwich board sign alerting you to turn. The stand it truly just a hop and a skip from the main road to the ferry terminal.
We hope you enjoy your adventures around Salt Spring!