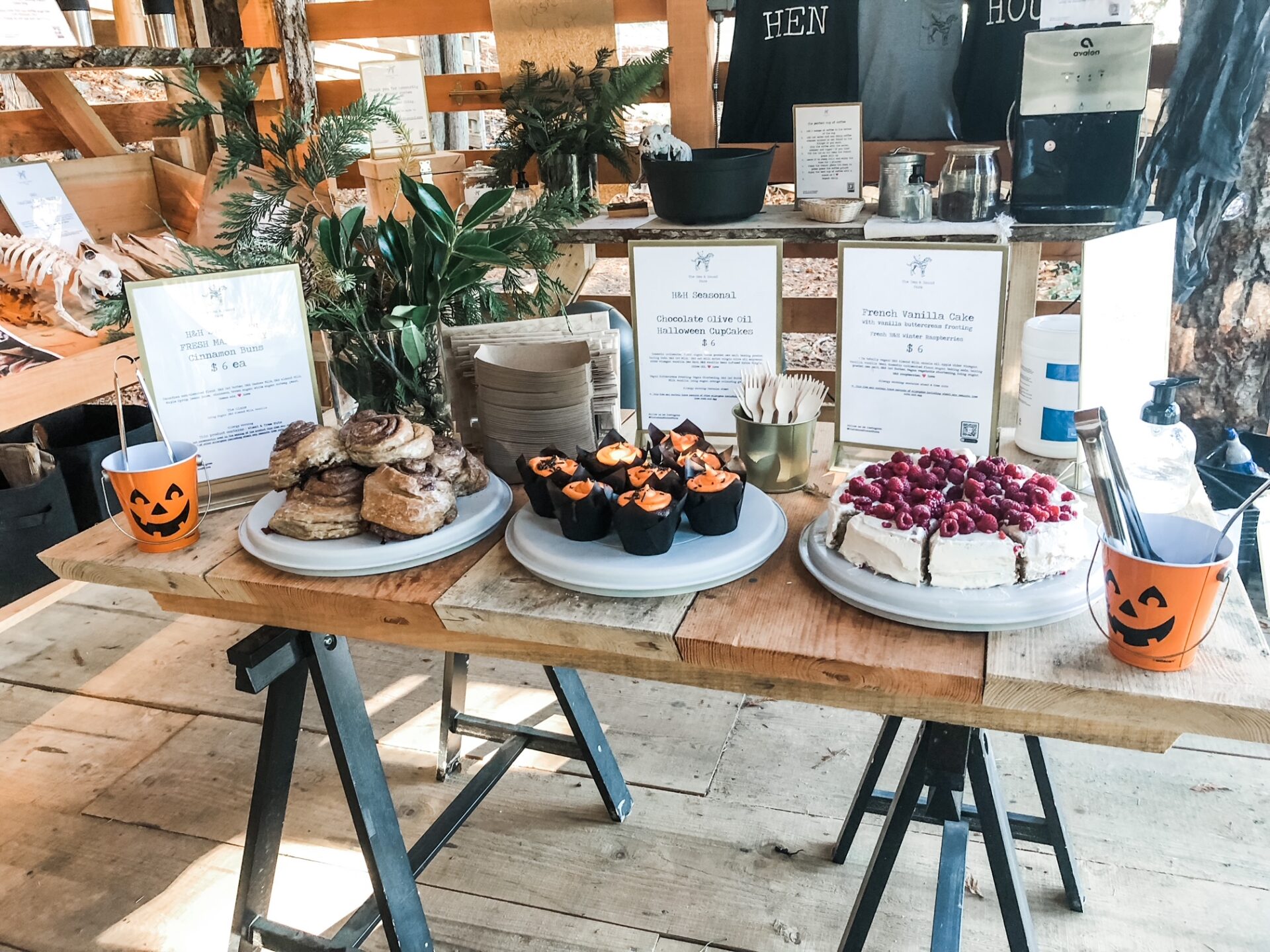 More Favourite Farm Stands on Salt Spring
There are so many amazing farm stands on Salt Spring that we just had to write a second post listing more of our favourite farm stands both near Hastings House and closer to Fulford harbour. When you think of farm stands, you may imagine that they sell mostly vegetable produce. But on Salt Spring, there are so many creative stands selling everything from gift items to epicurean delights.
The Piper's Buns
If you love artisanal breads, Piper's Buns is a fabulous place to visit. They bake specialty breads, such as olive bread, challah, and baguette, as well as treats like cookies, butter tarts, and pies. Open Friday to Sunday, and located at 740 Walker's Hook Road, this farm stand is a wonderful weekend stop if you are headed to Fernwood beach.
The Hen and Hound
Also on Walker's Hook Road, you'll find the Hen and Hound Farm Stand. This stand is set up like a café in the trees and has a view of the ocean! Open daily 10ish – 7ish, Hen and Hound has coffee, fresh fruit, and an abundance of vegan baked goods­; their cinnamon buns were voted to be the best on Salt Spring by Edible Magazine! You can also pick up eggs laid by their rescued hens. [Photography by Hen and Hound]
Mount Maxwell Organic Soaps
Drop by the Community Farm Stand on Cranberry Road to pick up handcrafted soaps made with essential oils, coconut, and natural flowers and grains for colour. These soaps make an attractive gift. Heading to this farm stand is an adventure that will fit right into your day if you are planning to drive or hike up Mount Maxwell and savour the view over the lush farms of Burgoyne Bay and Fulford Valley. Mount Maxwell Organic Soaps also offers 2-hour soap-making workshops.
Salt Spring Kombucha
Have you tried Salt Spring Kombucha? A healthful fermented beverage made right here on island, this kombucha is infused with local herbs to create natural flavours such as hibiscus lemon balm, lavender mint, elderflower ginger, and wild rose. If you want to grab some kombucha for the road, stop at their farm stand on Furness Road, which is just past Garry Oaks Winery en route to the Fulford ferry terminal. This stand also sells gluten-free baked goods and keto and vegan friendly items.
Stowell Lake Farm Stand
If you are on your way back to Fulford Ferry Terminal or are planning a visit to Salt Spring Island Cheese, you may wish to drop by Stowell Lake Farm stand, which is open Thursday – Monday. Located a short way further down Reynolds Road past the cheese farm, this farm stand has a distinctive red gate that opens automatically when you pull up. There is ample parking inside, and this large farm stand sells a wide variety of vegetables, baked goods, seedlings, and floral bouquets. The home-made pesto and herb salad dressings are absolute highlights at this stand.