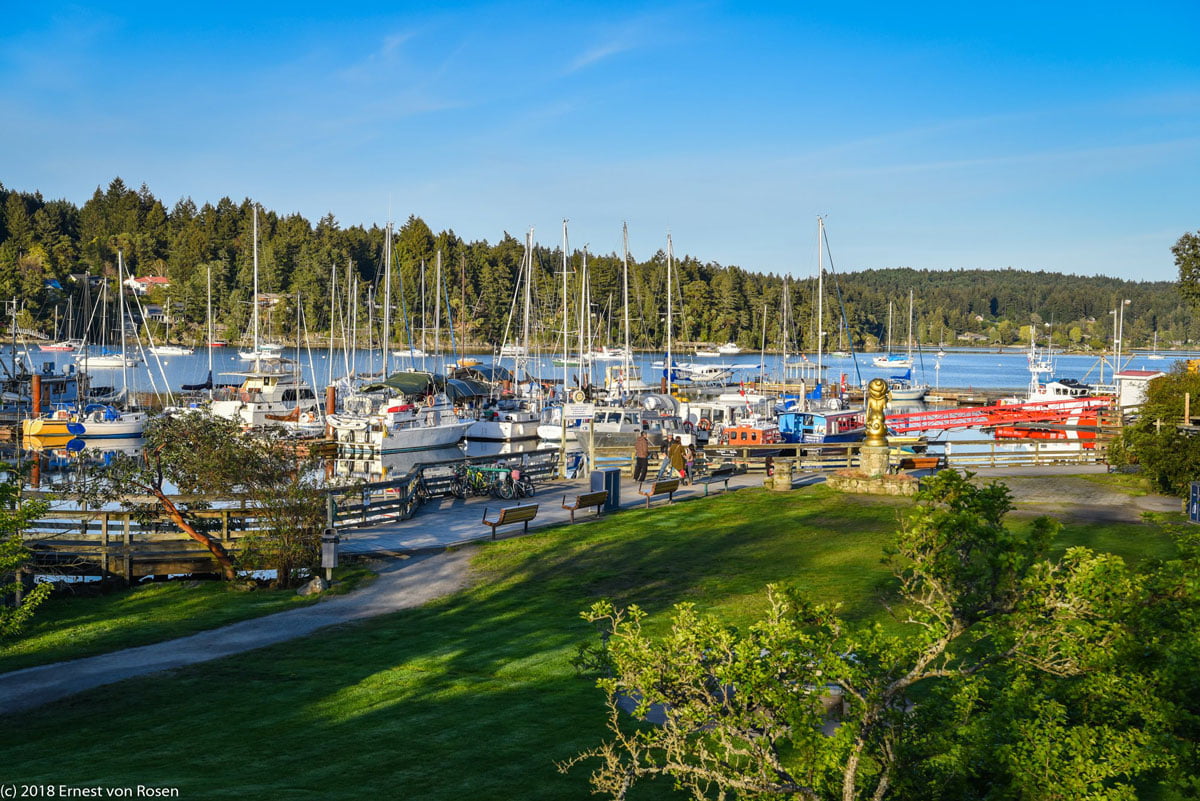 The Best of Salt Spring Island
Rediscover Salt Spring Island this summer with a visit to our favourite local gems. 
Salt Spring Island has a reputation for being both an artistic hub and an organic farming paradise. While much of this creative bounty can be found on display at the famous markets, more than a few local places are worthy of an extra visit. When you've finally made it here for your long-awaited escape, make sure to spend time at some of our favourite island businesses: 
Salt Spring Cheese Co. 
A classic. Salt Spring Cheese Company makes traditional, handmade goat cheeses with 100% pure goat milk and only very few other ingredients, the quality of which is key to their great taste. Family owned and operated, the cheese is made right here on Salt Spring Island where the farm can be visited year round. See the animals, enjoy the scenery, and watch the cheese being made through the viewing windows, or simply find a quiet table in the garden to have a picnic. Whatever you choose, it's worth the trip. Chef Marcel recommends the Truffle Chèvre. 
Salt Spring Wild Cider 
The best afternoon pit stop. Salt Spring Wild Cider makes fully natural and incredible ciders from wild apples and pears growing throughout the island. Combining these with apples from regional orchards, their process is key to highlighting the complexity and depth in each of their unique flavours, not to mention the many heritage varieties we have growing here. Grab a bottle and order some tapas and take in the afternoon sun on their picnic tables overlooking the orchard. Our Head Gardener, Joshua, recommends the Scrumpy. 
Francis Bread
Bread you'll dream about. Francis Bread bakes naturally-leavened bread in a wood-fired oven out of the cutest little bakery at Duthie Gallery. Using BC grown organic grains, their loaves remind us of what bread is supposed to be. But don't stop there, the lunch and treats are delicious and a perfect way to spend a weekend morning. While the Rye Miche is a great choice any time, our Marketing Manager, Jamie, recommends going on Sunday for the Black Barley loaf. Order through their website in advance to make sure you're not disappointed. 
Tree House Cafe
A pillar for entertainment. With a century-old plum tree growing in the centre and lush foliage all around, the Tree House Cafe is an icon that's been a part of the island since the 1920s. Offering live folk music every night throughout the summer as part of their "Music Under the Stars" program, the Cafe brings life into the otherwise sleepy evening streets of Ganges. Check their music schedule to plan your night out or wander the boardwalks while enjoying the tunes. 
Waterfront Gallery
Souvenir central. A not-for-profit, artist-run collective featuring over 100 island artisans, the Waterfront Gallery showcases the best of Salt Spring's creative producers. Step inside to peruse the art and crafts on display and discover both new and established local artists showcasing works in; ceramics, jewelry, painting, glass, silk, wood-working, weaving, fabric art, and more. It's the perfect place to find a gift for someone special or to treat yourself to a beautiful souvenir.