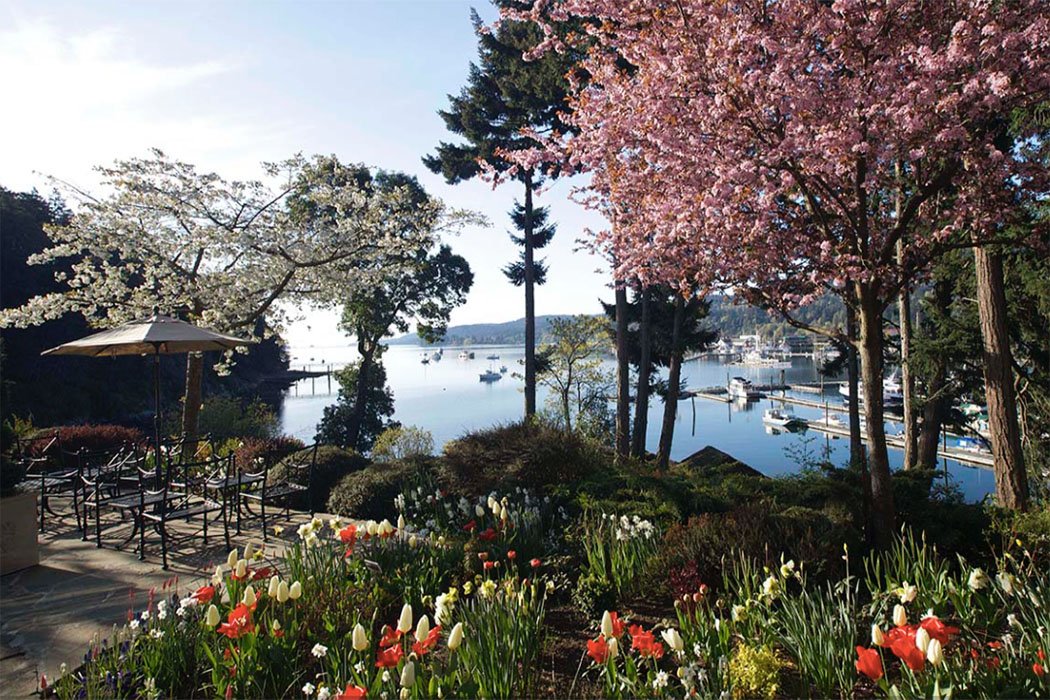 Spring comes early to the Southern Gulf Islands. The Adirondack chairs are out at Hastings House on our sweeping headland above Ganges Harbour. As the days grow longer and the temperature rises, the property is decorated with daffodils, heather and rhododendrons. Spring is such a magical time, and you can make your shoulder season days even longer by finding the best sunset spots on the island!
Zach Beach
One of the island's best-kept secrets, Zach Beach is a romantic spot for savouring the setting sun. Its jagged shoreline offers rocky nooks that give you the feeling you've found your own special cove. To get there, enjoy the winding Sunset Drive past sheep farms and the twinkling sea views through the trees. There is no obvious parking spot at this beach, which is part of its charm, so look out for a small trailhead between Pringle Farm and West Eagle Road.
 Baker Beach
On evenings when you want to walk the beach till the very last rays have dipped behind the hills of Vancouver Island, Baker Beach is the place. A short five-minute drive from the Hotel down Baker Road, you'll find a quiet parking spot and wooden stairs to this pebble beach. Whether you want to skip stones, sit on a driftwood log or walk one of the islands longest beaches, Baker will not disappoint.
Daffodil Point
True to its name, Daffodil Point is a floral delight through the month of April, and provides a grassy place to sit overlooking the channel and sailboats moored in Burgoyne Bay. There are plenty of private spots up the hillside or right down by the water. The point is a moderate stroll from Burgoyne Bay parking through lush heritage Garry oak and Douglas fir forests for a full West-coast experience.
Our Reception team loves to share with Guests about our favourite spots on Salt Spring Island. When you arrive, feel free to ask us for a tourist map detailing the island's many provincial parks, trails and beach access points. If you want to explore more challenging hikes during your stay at Hastings House, you may enjoy our article on Hiking Salt Spring Island.
Of course for a quieter stay, you can always enjoy manicured gardens, lush forest and seaside views without even leaving the Hastings House property. Our Terrace is now open for outdoor dining and the Seaside Social.