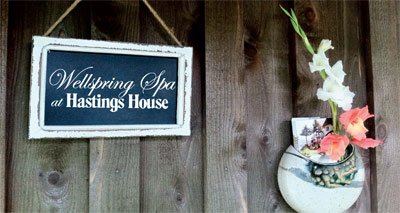 Salt Spring Island's Wellspring Spa is Open Year Round, Including Winter!
Are you looking for a Salt Spring Island spa that's open in the winter? Wellspring Spa remains open year-round, even when the hotel and restaurant have closed for the season! Our cedar-clad barn is a cozy spot for a treatment, nestled amid the grounds of Hastings House. And we have an exceptional team of therapists working with us year-round.
Meet out Talented Therapists
Johane
Johane is the manager at Wellspring Spa. She believes that massage is a way of coming home to yourself. She considers each treatment an opportunity to create a supportive and healing space so that the restorative benefits can be truly received. Johane also offers both our Signature and rejuvenative Elapromed facials.
Jennifer
Jennifer has a compassionate and uplifting presence and offers massage therapy, including deep tissue release, acupressure and reflexology, as well as facials. She has a passion for aromatherapy and the healing properties of nature and creates our wildcrafted rose massage oil and herbal candles through Ravenwood Wildcraft.
Tess
Tess brings a serene joy to your massage experience. She offers a wide array of treatments from classic massage, Thai massage and facials to our reflexology and Indian head massage. Tess has an intuitive rapport that helps to guide her in offering clients an optimal healing spa session.
Becky
Becky is passionate about working with the body's energy systems to help massage clients open to their own embodied awareness and to drop into a state of harmony. Becky integrates acupressure, deep tissue massage, Shiatsu, and Reflexology, and is inspired by helping others receive the gift of self-care.
Adina
Adina has a deep understanding of the psycho-emotional aspects of the body and a profound communication with muscles and fascia. She specializes in Lomi Lomi, Thai and Deep Tissue massage. Her attention and care allow you to fully relax and release with every exhalation.
We look forward to seeing you at the spa!