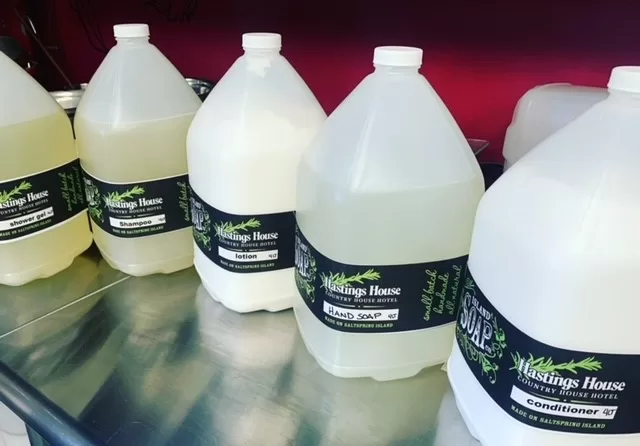 Environmental Amenities by Island Soap Co.
Hasting House proudly furnishes our rooms and suites with environmental soap products by local soap artisan, Island Soap Co. Sustainability is important to us at Hastings House and we know it is important to our guests as well.
Featuring small batch sustainable soaps, Island Soap Co. created the Luxe scent exclusively for Hastings House. This custom scent with Ho wood, cedarwood and rose is inspired by the rose garden at Hastings House and the West Coast forest of its surroundings.
Both Hastings House and Island Soap Co. are committed to sustainability and offer shampoo, conditioner and lotion in refillable dispensers. In addition, these amenities are produced and packaged on Salt Spring Island, which lessens the carbon footprint caused by long-distance shipping. Island Soap Co. also provides a soap envelope so that guests can continue using their luxurious bar soap at home. We also carry a selection of bath salts, bath bombs, sugar scrubs, and soaps by Island Soap Co. in our Reception gift shop. We hope this is just one way that you can take a little bit of Hastings House and your stay in the country home with you.
Living on a quaint island in the middle of the Salish Sea reminds us that it is always a good thing to be conscious of our impact on the environment.