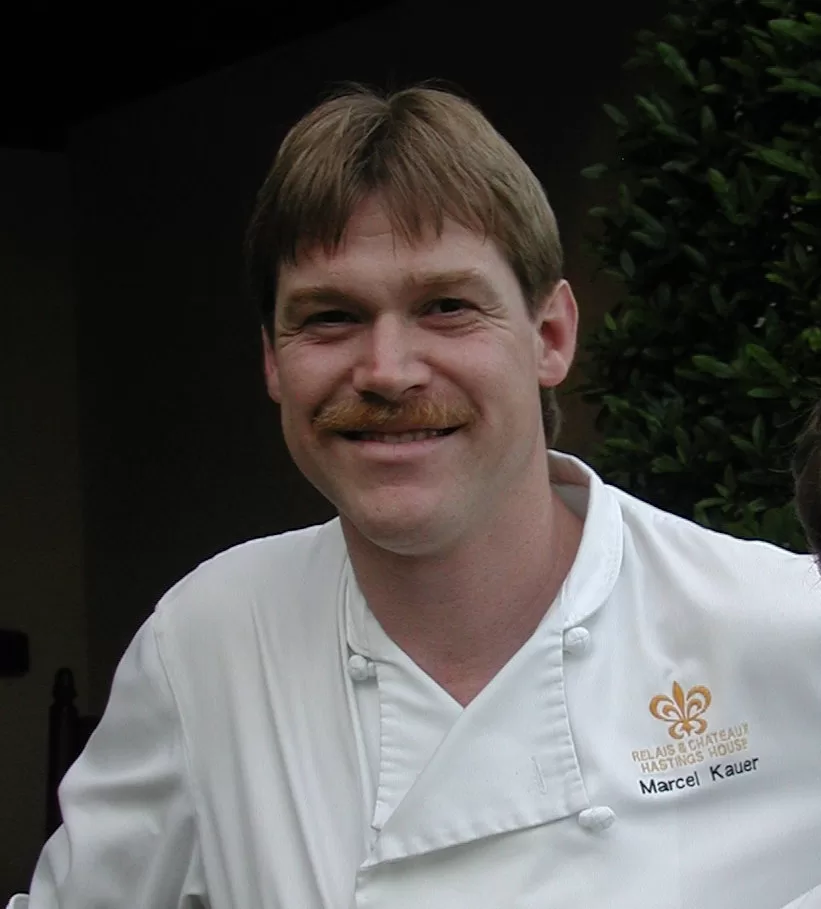 Executive Chef Marcel Kauer
Gourmet dining has always been one of the highlights of a stay at Hastings House thanks to our superb Executive Chef Marcel Kauer.
In 1991, Marcel Kauer joined the Hastings House culinary team from the William Tell in Vancouver. When one of the chefs from the William Tell, Lars Jorgensen, became the head chef at Hastings House, he invited Marcel to come and cook for a weekend in October right before the hotel closed for the season. At that time, Marcel had never heard of Salt Spring. But after spending the weekend here, Chef Jorgensen enticed him to move to the island with his wife. They worked side-by-side for a few years as the sole chefs at the hotel.
The ten-room hotel of that time served breakfast, afternoon tea, and a five-course set menu for dinner. Salt Spring Island lamb was often featured. Chef Kauer fondly remembers hosting parties of two or four at a table in the kitchen for a special close-up view of the preparation of the gourmet fare. On occasion, instead of the formal dinner, guests would enjoy lobster and crab parties at the boathouse.
When Bonny O'Connor and Jerry Parks bought Hastings House in 1996, they appointed Marcel as Executive Chef, a position he has held for over twenty-six years. They wanted to invite the community and visitors to the island to enjoy the excellence of Hastings House Manor Dining, and so the Verandah dining room, initially called the Bistro, was built and an A la Carte menu catering to a variety of tastes and dietary requirements was offered seven days a week.
Swiss born and trained, Marcel excels in European gourmet cuisine featuring fresh herbs and local fish, poultry, venison, and lamb. The Breaded Pork Tenderloin Schnitzel with Spätzle is a dish he brought to Manor Dining from his three-year apprenticeship at Hotel Krone in Wetzikon, near Zurich, and is one of his favourite dishes.
Manor Dining reopens for the season on March 10, and we are proud to be celebrating Marcel's thirty-third season at Hastings House.