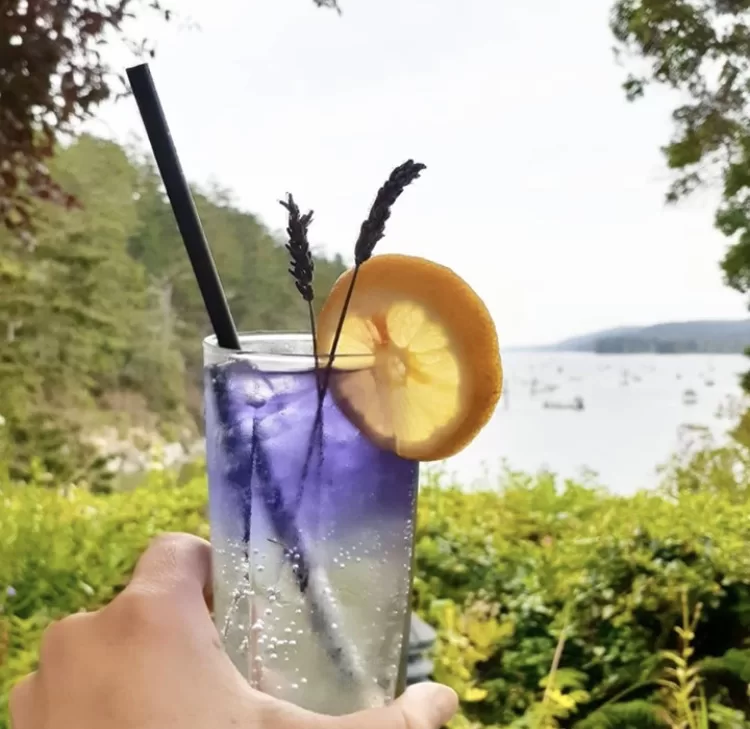 Social-hour priced cocktails and mocktails are a great reason to head to Manor Dining at 4:00pm! Our Empress Lavender Collins is a showy drink ideal during your stay on Salt Spring, as we have two lavender farms on the island. It is made with Empress Gin and lavender-infused simple syrup handcrafted at Hastings House! A slow pour gives it a layered look, accentuating the purple hue.
The Empress Lavender Collins is also a popular choice as a cocktail for rehearsal dinners and wedding receptions.
How It's Made
Here's a peak into how we prepare this stunning layered cocktail in four simple steps!
Step 1: Pour .5 oz Hastings House Lavender-infused Simple Syrup into a highball glass followed by .5 oz fresh lemon juice
Step 2: Add ice and slowly pour sparkling water over the ice so as not to disturb the lemon and syrup. There will be a hint of yellow at the bottom of the glass.
Step 3: Gently pour 2 oz of Empress Gin to create the purple top layer of the cocktail.
Step 4: Garnish with a lemon wheel and a sprig of fresh lavender!
To try our lavender-infused Empress Lavender Collins, drop in at our Seaside social with seatings between 4:00 and 5:00pm daily. No reservations are required for the Seaside Social, and you can enjoy the cozy fireside atmosphere of our heritage lounge or the expansive harbour views from our seaside terrace on sunny afternoons.