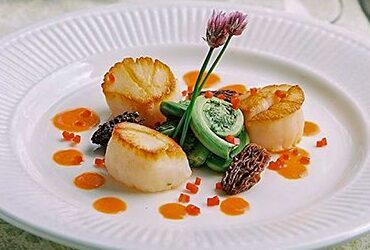 Summer Fine Dining Saturdays & Prime Rib Sundays
In celebration of the re-opening, Manor Dining is offering a special three-course Fine Dining experience each Saturday evening in our Heritage Dining room. The Fine Dining menu is designed each month by our Executive Chef Marcel Kauer with a view to the freshest local ingredients. There is a choice of three entrées, and vegetarian selections can be paired with a vegetarian appetizer.
The Heritage Dining room with its timbered ceilings and lead-paned windows lends itself to a Fine Dining atmosphere.
What an ideal way to celebrate the re-opening this summer!
And on Sundays, join us for a traditional Prime Rib dinner. Long a favourite special event at Hastings House, the Prime Rib entrée is paired with Yorkshire pudding and garlic mashed potatoes.
This event is a flexible offering, as individual guests can order Prime Rib, while other members of their party can order A la Carte!
If you have been missing your usual Sunday family dinners, come and join us this summer in Manor Dining.
Please call our Reception to reserve your table at 250-537-2362.