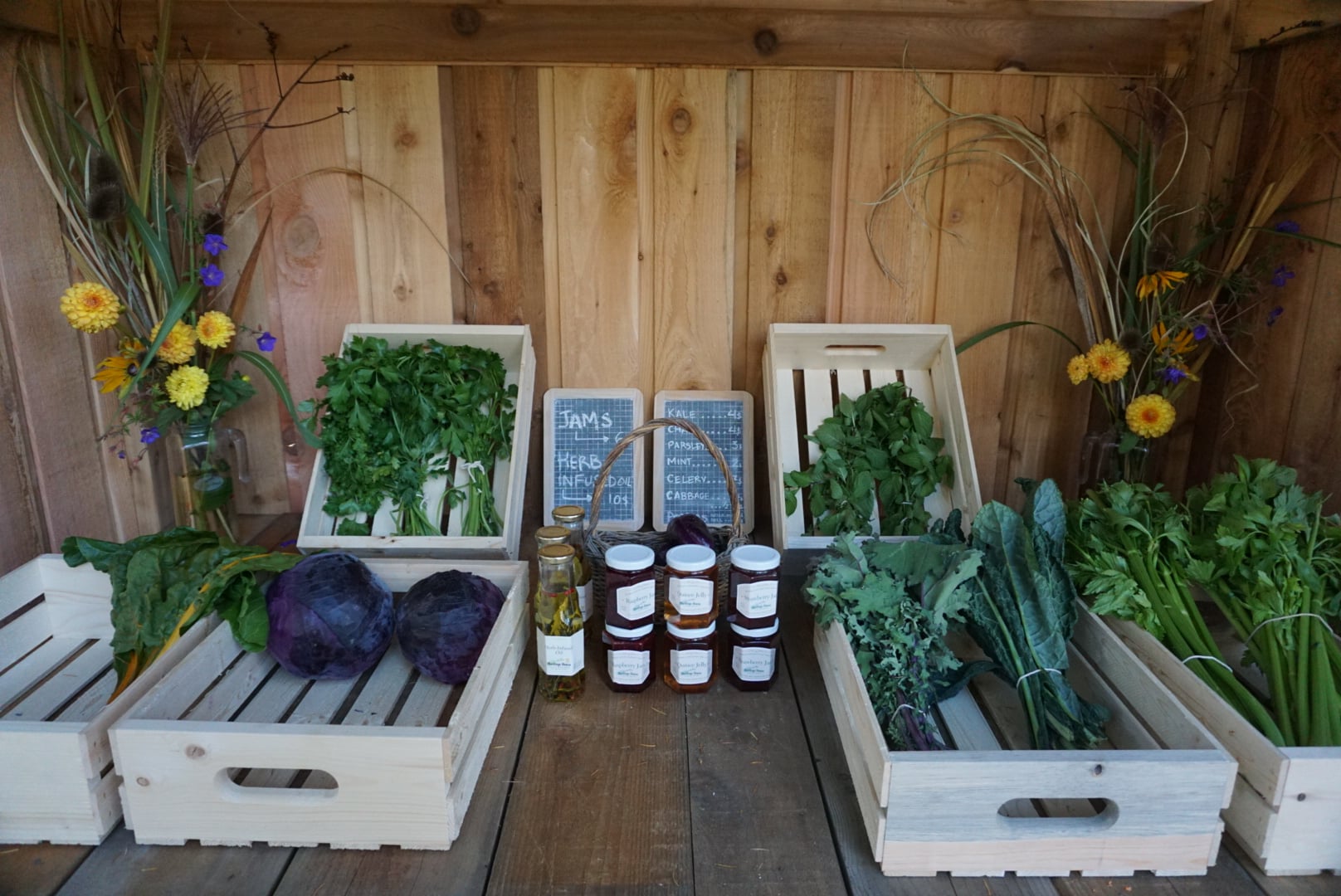 New for next season, stop by our very own farm stand where we will be offering all of our surplus produce along with special Hastings House treats. 
Hastings House has been growing produce for our dining rooms since 2015 when the gardens expanded and transitioned to a model of sustainable, non-GMO, organic agriculture. We cultivate a range of fruits, herbs, and vegetables to be served in our dining rooms, supplying roughly 75% of the chefs' needs. Sometimes, however, we grow more than we can cook.
Situated next to Churchill Cottage, on Churchill Road, our new farm stand invites both our guests and our community to partake in this bounty and its unique spirit of place. Indeed, Hastings House has been a working farm since the mid-1800s and we are devoted to maintaining its character and heritage.
From mid-March through to the end of October, expect to find brassicas, broccoli, garlic, lettuce, peas, specialty potatoes, squashes, and tomatoes, as well as blueberries, cherries, raspberries, rhubarb, and strawberries. Like our entire 22 acres, it will all be non-GMO and organically-grown without the use of chemical fertilizers or pesticides. We'll also be selling our signature jams and jellies as well as herb-infused oils created by our award-winning chef.
Not only will this be an opportunity to savour sumptuous, fresh farm-to-table ingredients but it also advances sustainability in hospitality. As part of Relais & Chateaux, we strive to make the world a better place through cuisine and hospitality which includes a commitment to contributing to renew natural resources by reducing food waste and using seasonal, locally-sourced products.
Visit the farm stand during your next visit and help us preserve both culinary excellence and the environment, all while relishing in simple, good taste.
Details:
Location: 130 Churchill Road
Prices: As marked
Products: Varies by season and our chefs' needs
* The farm stand operates on the honour system, please help us keep this tradition alive and well on Salt Spring Island.