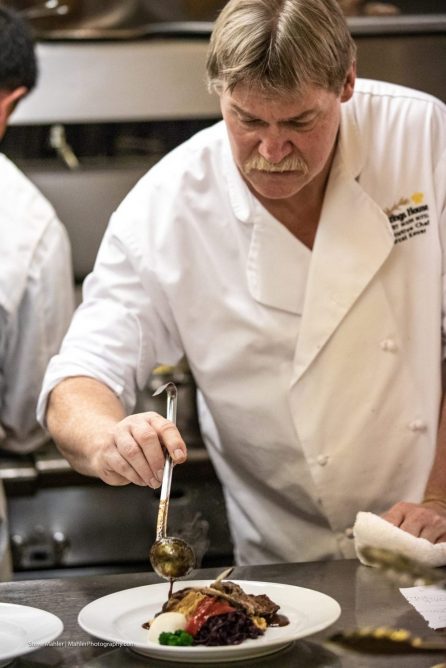 The Cuisine of Switzerland – 3 Nights Only November 16 to 18
A Swiss Culinary Experience
3 Nights Only – November 16 to 18
Hastings House is proud to honour the 25th work anniversary of our esteemed Executive Chef, Marcel Kauer
We hope you'll join us in celebrating Chef Marcel's 25th year with Hastings House.
Chef Marcel has prepared an authentic à la carte menu featuring the favourite dishes from his native Switzerland, including:
Raclette: An Alpine favourite that dates back to 1291.
Rösti: The Swiss version of potato pancakes, but so much better!
Älplermagronen: Pasta, potatoes, and cheese topped with caramelized onions… mmm…
Käseschnitte: Think of Welsh rarebit and then some.
Schweinefilet Geschnetzeltes: Thinly-sliced pork tenderloin cooked to perfection.
Plus: Apfelkuchen, Bünduer Nusstorte, Chocolate Fondue, delightful beverages and more!
Our award-winning Chef is the cornerstone of the Hastings House Dining Experience and he makes the best use of our extensive vegetable and herb garden to ensure the freshest produce available. Naturally, all our vegetables are non-GMO and are grown according to organic farming methods.
"I concentrate on providing memorable dining by using the freshest local ingredients prepared in a continental manner, utilizing simplicity of flavor, thinking of how food will work with wine, and specializing in little details that delight.  It's then served expertly in a charming country setting where guests are truly comfortable.  When our guests say they've just had the best dining experience of their lives, I'm happy.  That's perfection!"    – Marcel Kauer
 This special menu is available from Friday, November 16 to Sunday, November 18.
Seating is available from 5 PM to 7:30 PM.
Reservations are required: please call 250 537-2362